Fan Central Station
Tuesday, July 18, 2006
Today we had spagetti for supper. Logan enjoyed it. A lot.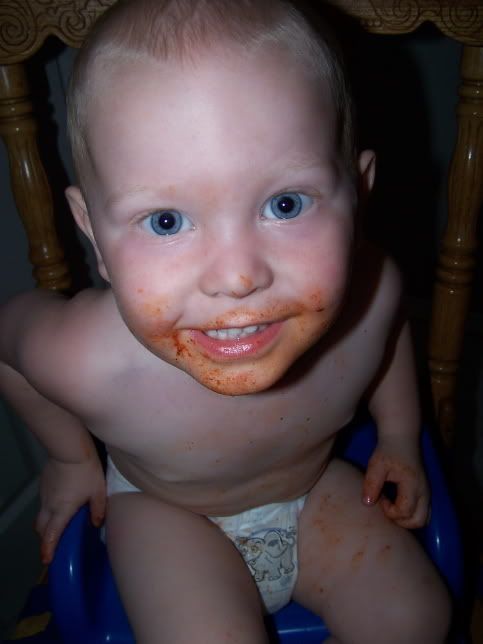 For more spaggetti fun we offer you this:
Also during supper we disscussed this statement: "Mommy Pranked Me" This was said by Blake and this is what happened, and in my defense we had just been watching Americas Funnies Home Videos, so there! And I am too mature..Shut up! Oh just watch it already!....
As an Added bonus for getting thru this post this far, I offer up boob photos! YAY ! I can hear the crowd screaming ... So, this one is the side that was done last friday, the 14th of July. You can see the
Sticky hand alien life form bandage
on it.. sorta. It is almost 100% pain free, and looks AWESOME. Ok at least to ME it looks great. Oh, and I get my stitches removed on the 25th of this moth... does it hurt?
Voila my boob, five days post Op.
heh heh just wait till you compare it to a photo I took today of last months incision lol... This photo is one I took just tonight. the incision is 33 days old. Even tho we used a different disolving suture I still had the same allergic reaction to it. It burns like a son of a bitch, but I am using copious amounts of polysporin and the
alien bandaid
on it as well.
Now. Aren;t you happy you came along today? Wasnt this show and tell fun? What? your not a boob person? Dammit! ~sigh~
Wait.. Dont go! don't you want to know why this post is called Fan Central station?
Oh goody! In our upstair every room has its own ceiling fan light fixture thingy, but downstairs , the boys rooms dont have any fans. I dug up some fans from the garage and washed them up today and we had them all plugged in to see if they still worked... three fans sure make a LOT of noise! Plus I forgot to take them down to the kids rooms. LOL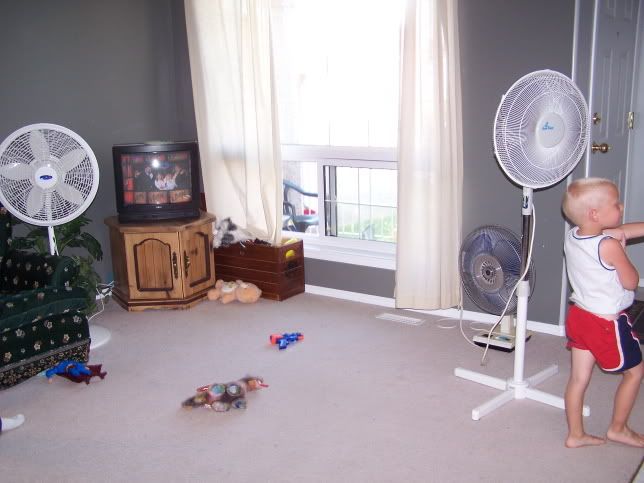 And on a final note I leave you with this.... Aww Babies first camping trip :o)
(NOTE: To see anything in this photo, highlight it!)